Improving Lives, One Person at a Time
I have been practicing dentistry for over twenty years now and dentistry means everything to me: It's not only my career, it's my passion. I am most excited, as a dentist, to help others. I love to solve dental problems; first by identifying and diagnosing, then planning an approach for treatment that works with my patient's clinical and personal concerns. Working with the patient, we achieve the desired outcome.
I believe in forming a partnership with each patient. My team and I can provide the clinical care, education, and insights, but the patient also needs to participate in deciding on treatment and improving their home care. I believe in empowering patients to be involved in all aspects of dental care. Together, we can achieve optimal oral health and beautiful smiles!
It is fulfilling to be involved in one's overall healthcare and to see how that positively affects a person's life. Whether I'm giving a person tips on home dental hygiene and nutrition, or changing their appearance through smile design, they are happier and healthier.
I am so grateful for the ability to take the oral health journey with each and every one of my patients ... my extended family.
Education and Continuing Education
Bachelor of Science with honors – University of Toronto in Toronto, Canada
Doctorate of Dental Surgery – University of Western Ontario in London, Canada
Postgraduate general practice residency – Strong Memorial Hospital, University of Rochester in Rochester, NY
I am passionate about comprehensive dentistry: striving to achieve optimal oral health, anatomic and functional harmony, orthopedic stability, and natural esthetics for my patients. Currently, dentistry is experiencing an explosion of technological and procedural advances, along with improved materials and with increasing awareness of the importance of oral health and its relationship to overall health, it means I must blend the evolving science with the art of dentistry.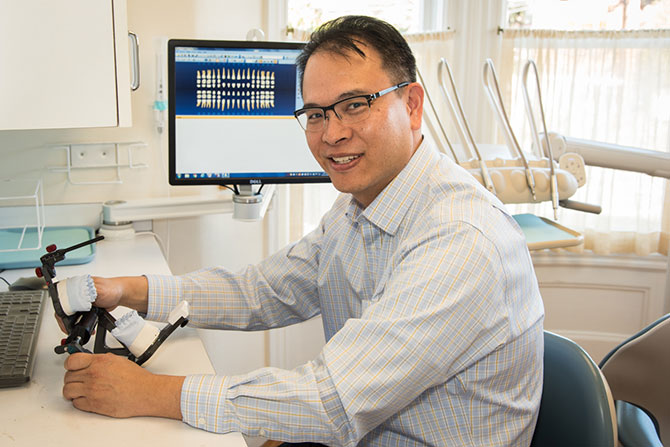 I actively seek out continuing education (CE) because I am always striving to be a better dentist. CE broadens my knowledge and expertise, which increases my ability to solve dental issues and deliver the highest quality of care.
I have completed the core curriculum at the Dawson Academy in Florida, to learn the essential principles and skills for complete care dentistry. My coursework concentrated on dental occlusion, the temporomandibular joints, and comprehensive aesthetic restorative dentistry. I continue to participate in workshops and seminars through the Dawson Academy, as well as the Spear Education Center in Arizona.
I also belong to a Spear Study Club in Berkeley. This once-monthly meeting brings together dentists to collaborate on and discuss challenging cases, to improve our knowledge and raise the standard of patient care in our community.
Professional Memberships
Beyond the Office
I was born and raised in Toronto, Canada, and had a successful dental practice in Canada. However, my wife is originally from the Bay Area and we wanted to move back to the Bay to raise our three children.
When I'm not at work, I'm usually spending time with my family. I love being involved with all of their activities. I also enjoy the outdoors, especially hiking, biking, and snowboarding. In fact, I've snowboarded all over North America and across Europe and always dreaming of the next big powder day!
Being active and contributing to my community allows me to connect with what is going on beyond work and family. I am glad to sponsor local children's sports teams in Berkeley and I am also involved in activities with my local church.